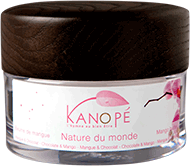 This peeling with a tasty cocoa perfume gives a sensation of heat and comfort and at the same time smoothes the skin intensely.
This peeling with a scent evoking Arabian nights has a velvety texture and gives shine to the skin.
A subtle combination: exoticism for mango butter and desire for chocolate. This nourishing skin care containing shea butter gives a velvety and luminous touch to the skin.
This oil rich in vitamins and fatty acids contains green bamboo extract which gives the skin its natural radiance.